en français - in het nederlands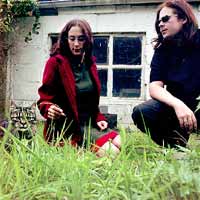 Cedric G. was born between summer 68 and autumn 72, somewhere between Belfast and Zürich. He started a musical career as a drummer in the late eighties and used to perform hundred of gigs, most of them in a noisy rock band. In the meantime he kept on making music with Johanne Lovera – the band's female singer who had worked in the past with Cedric G. on a short time project.
The songs for the album Con Furore (a downtempo trip between atmospheric jazz, movie soundtrack and electronic music) were composed in three months. A musical work made in a twenty square meter single room home on an analogic four-track recorder with the help of a standard microcomputer.
Cedric G. and Johanne met Luc Van Acker who gave them the opportunity to record their first album. They worked in pre-production with Frank Duchêne (ex-Hooverphonic) and the album was recorded at Louis Studio in Tienen (BE).
The studio version was entirely produced by Agent 5.1 and reinterpreted on acoustic instruments.
A record deal is signed at the beginning of 2002 with Komodo Records, a new belgian label build-up for Agent 5.1.
In september 2002 a deal is signed with the french label Nocturne for the release of "con furore". This debut album (available in Europe & Japan) was acclaimed by music reviewers (Trax, Coda, Triphop.net,...) & newspapers (Knack, Le Soir, La Dernière Heure,...).
In 2002 & 2003 the band has toured in Belgium (Dour Festival, Nandrin, Suikkerrock, Francofolies de Spa) & France (Batofar in Paris & l'Entre-pôt in Grenoble) and put a few songs on a lots of compilations.
The second Agent 5.1 album "the wonderful world of kissing" has just been released thanks to a licensing deal between Komodo Records and Black Coffee / Distrisound.
Agent 5.1 has invited live musicians (trumpet, flute, violin,...) to perform during the recording sessions in order to add more warmth and authenticity to the new album.
The new songs are still influenced by jazz, 60's soundtracks and electronic music with the wonderful and hypnotising vocals of Johanne Lovera performing on most of them.
Stomach is the first single taken from this album.